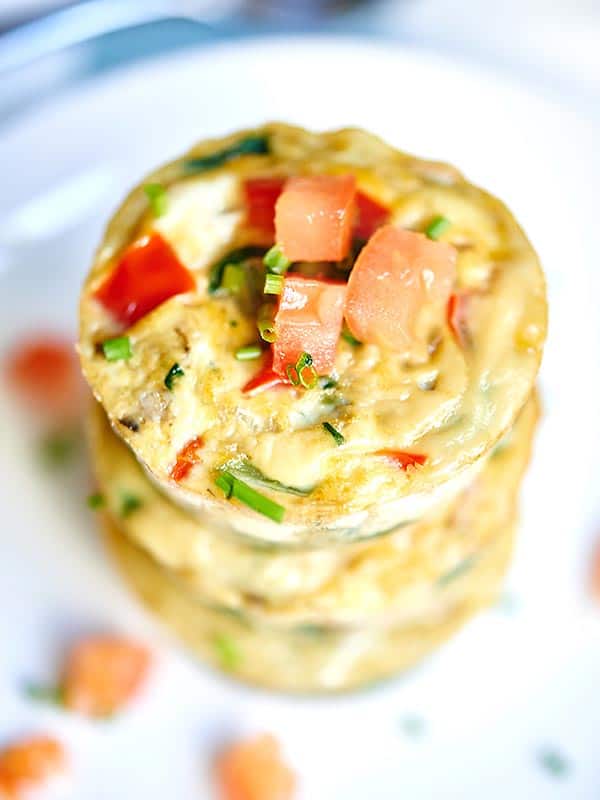 (Picture Courtesy of showmetheyummy.com)
If there is one food that I eat more than anything else, it's eggs.  I absolutely love eggs and always have.  Cooked, baked, hard boiled, soft boiled, fried…I love them all. Fortunately, eggs are fully acceptable as part of the CKD diet but because my cholesterol is a little on the high side (I'm a mess, I know), I try to stick with more eggs whites than yolks.
Around Passover (I'm Jewish), I was trying to find a breakfast dish that would be really fast in the morning and didn't require any kind of bread, grain, or anything with that dreaded "Accepted for Passover" label (which basically meant that it had a lot of other stuff in it and wasn't very tasty). So I started to look online to find ideas for how I could make eggs fast and portable and stumbled upon this recipe.  Not only was it super easy, but I could add whatever ingredients I wanted to make it work for me and my diet.  So I give you the easiest recipe in the world, egg muffin cups.
Healthy Egg Muffin Cups
Original Recipe Found HERE.
Revised Recipe Below: Me 🙂 Jackie
Prep Time: 10 Minutes
Cook Time: 15 Minutes
Total Time: 25 Minutes
Ingredients
1

tablespoon

vegetable or canola oil

1

cup

red pepper

measured after chopping

1

cup

green pepper

measured after chopping

1

cup

yellow onion

measured after chopping

1

cups

 steamed 

broccoli – roughly chopped

measured/packed before chopping (Note: I buy this frozen but make sure there's no added salt)

1

cup

mushrooms

measured before chopping

2

cloves

garlic

minced

4

whole

eggs

4

egg whites (Note: If you're like me, you can add more whites than this and take away from the whole eggs – the goal is just to have 8 total between whites and whole)

Pinch of cayenne pepper optional

Hot sauce

optional for drizzling on top
Instructions
Preheat oven to 350 degrees F.

Grease a standard non stick 12-slot muffin pan with cooking spray and set aside.

Heat a large non stick skillet over medium heat.

Once hot, add in oil, red pepper, green pepper, and onion.

Saute 5-7 minutes, or until peppers are tender.

Add in broccoli and mushrooms and cook for an additional 2 minutes.

In the last 30 seconds, add in minced garlic.

Remove from heat.

Crack eggs/egg whites into a large 4 cup measuring cup and whisk together.

Stir in cooked veggies. If adding cayenne, add the pinch to the mixture and stir together.

Pour the egg/veggie mixture evenly into the prepared muffin pan.

Bake for 15-20 minutes, or until the tops are firm to the touch and eggs are cooked.

Cool slightly and serve immediately!

Leftovers can be stored in an airtight container in the fridge for about 4 days.

These may also be frozen.

To reheat, pop them in the microwave until warm.